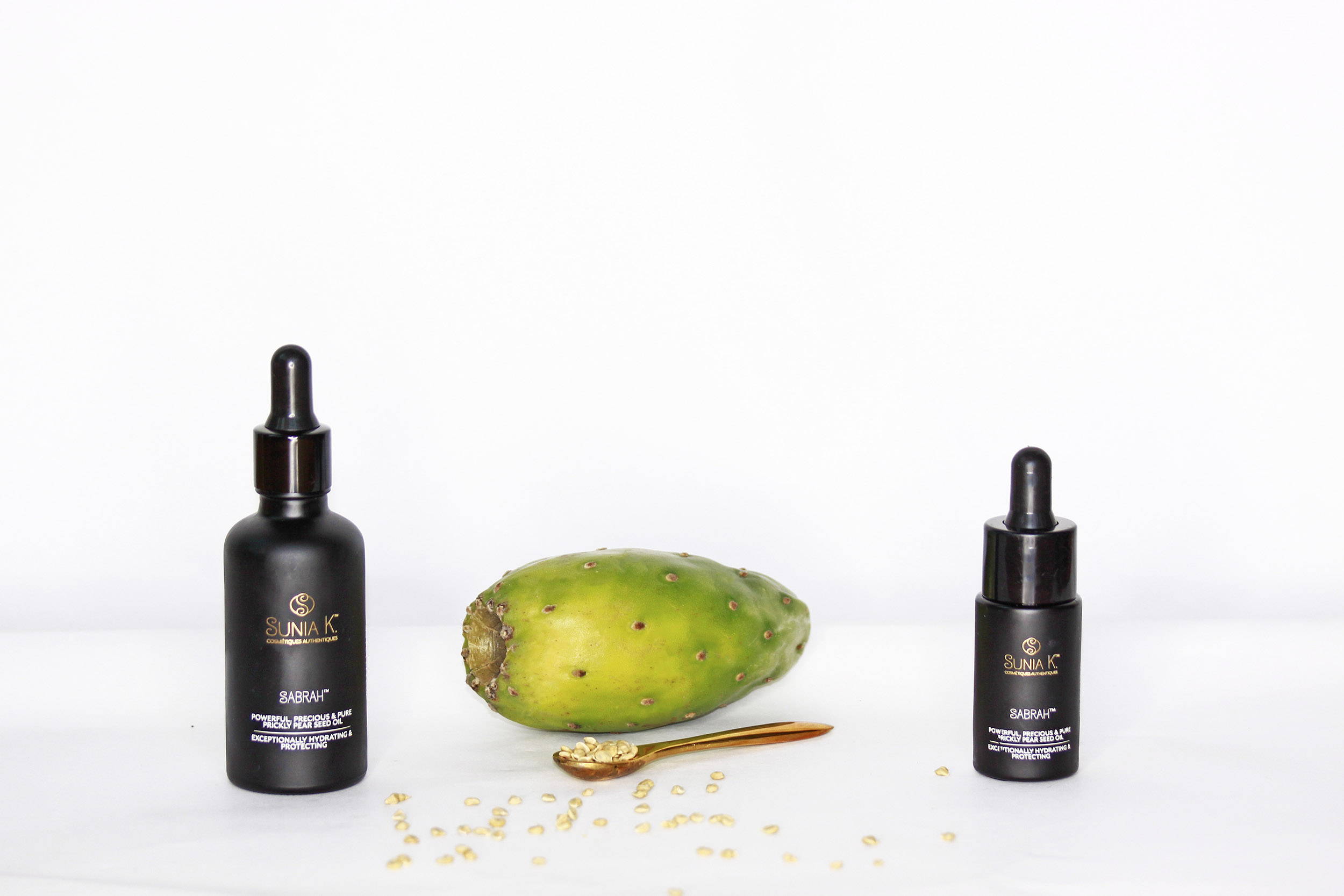 OUR UNIQUE PRICKLY PEAR SEED OIL
A potent ingredient from our farm in Tunisia
meticulously batched in New York
AVAILABLE NOW!
30 ml SABRAH
Same great product, new size,
new package, new price
Love yourself,

EASE your skin
Having psoriasis myself, I have a continued need for a powerful, non-fatty & easily absorbed skincare oil. This Prickly Pear seed oil has helped me keep my sensitive skin nourished and restored. It is Powerful, Precious & Pure just like we are! I share it with love, beauty, and authenticity.

Sonia K. Msc., Founder
A French born, Tunisian Expat, Canadian Citizen, New York adoptee!

REVIEW
This is the first time to use your products and i think your products really works on me.I have oily, sensitive skin and I have been using this oil just for few weeks and i can see the big difference on my skin. My skin is healthier than before since i have eczema last year.Your products are really amazing."
monica E.

"IN LOVE WITH IT!
I am absolutely in love with and committed to the Sabrah Prickly Pear Seed Oil and Rosewater facial spray. I have been using both products combined now for a while and my skin is the healthiest it has ever been. I have overall very dry skin and have had trouble finding a moisturizer that works longterm with my skin type. I have been using the oil and rosewater spray in the AM and evening and my skin is much brighter and has a nice, healthy glow. It's also much smoother and very soft :) Occasionally, I will add an extra step and mix the oil with an organic coconut oil before bed, especially around my eyes, to keep things even and smooth. I absolutely recommend these 2 products to anyone searching for a facial oil/moisturizer that they will keep as a staple in their routine, especially for those who are prone to dryness. The Sabrah oil is truly a timeless skin care essential."
Sara Anderson
"MY BEAUTY TRANSFORMER! LESS IS MORE!
I start to use Sunia K oil since Oct 2018 and I cant live without it! As I am approaching to 40, I used to visit dermatologist once a year for laser treatment to fix my uneven complexion. Thanks to Sunia K, now I cut my skincare rituals. Just Sunia K rose toner, moisturizer and Sunia K oil. Done! My friends are amazed at my tighened skin (they all wonder if i lost some weights. The fact is i did nothing and i gain some weights instead). I admit it tightens my skin and it looks less saggy now. Thank you! Super value for money!"
Grace H.
"HIGHLY RECOMMENDED!
As an African American woman in her early 40's caring for my skin has become a top priority. Luckily for me I have been introduced to Sunia K Sabrah oil and Rose water. Within one week of using the products i saw a significant change and a glow to my skin! The Sabrah oil moisturizes my skin and the Rose water hydrates and refreshes my skin leaving my skin looking and feeling amazing!! If i could give these products 10 stars i would!. "Thank You Sunia K!!
Nina Lewis
"SIMPLIFY MY SKINCARE ROUTINE YET EFFECTIVE!
I am in my late 30s and have 2 kids. I don't have too much time spent on skincare everyday as i am occupied with my work and my kids. Since I have been using Sunia K Sabrah, it hydrates my skin and it is not greasy at all (pretty light in terms of the texture). I have been using many other brands like UMA, May Lindstrom, etc, I used to have whiteheads or lipids around my eyes whenever I use facial oils. It never happens on Sunia K Sabrah. Last but not least, the pores around my nose are getting smaller (I have been trying every means to minimize it but in vain, like laser treatment, etc)!! Thanks Sunia K, it makes my life easier and it is very effective! Merci beaucoup!"
Michelle H.
"HOLY GRAIL FOR MY 4-YEAR-OLD BOY! SOOTHE HIS ECZEMA EFFECTIVELY!
We live in Hong Kong and the weather is pretty humid. Since March 2019, eczema was back to attach my 4-year-old son (as Sunia K toner and Sabrah soothes my eczema months ago), I put my faith in the bottles and try it on my son. Voila! after continuous applying toner and oil on my son's arms and legs for 1 week, the eczema is gone! (without using steroids cream!!!!!) To be frank, at the beginning, I wonder if it can be applied on my kid as he is very young. But I believe it is truly organic and apply it on my son for trial, to my surprise, it works very effectively on him! I understand there are many "organic" toners in the market and I have been trying many other brands, I would say Sunia K Rose Water is absolutely value-for-money! "
Mrs Luk
PHENOMENAL PRODUCT!
The quality of this prickly pear oil is outstanding, and I absolutely LOVED using it on my face. I can't recommend it enough!
Max Goldberg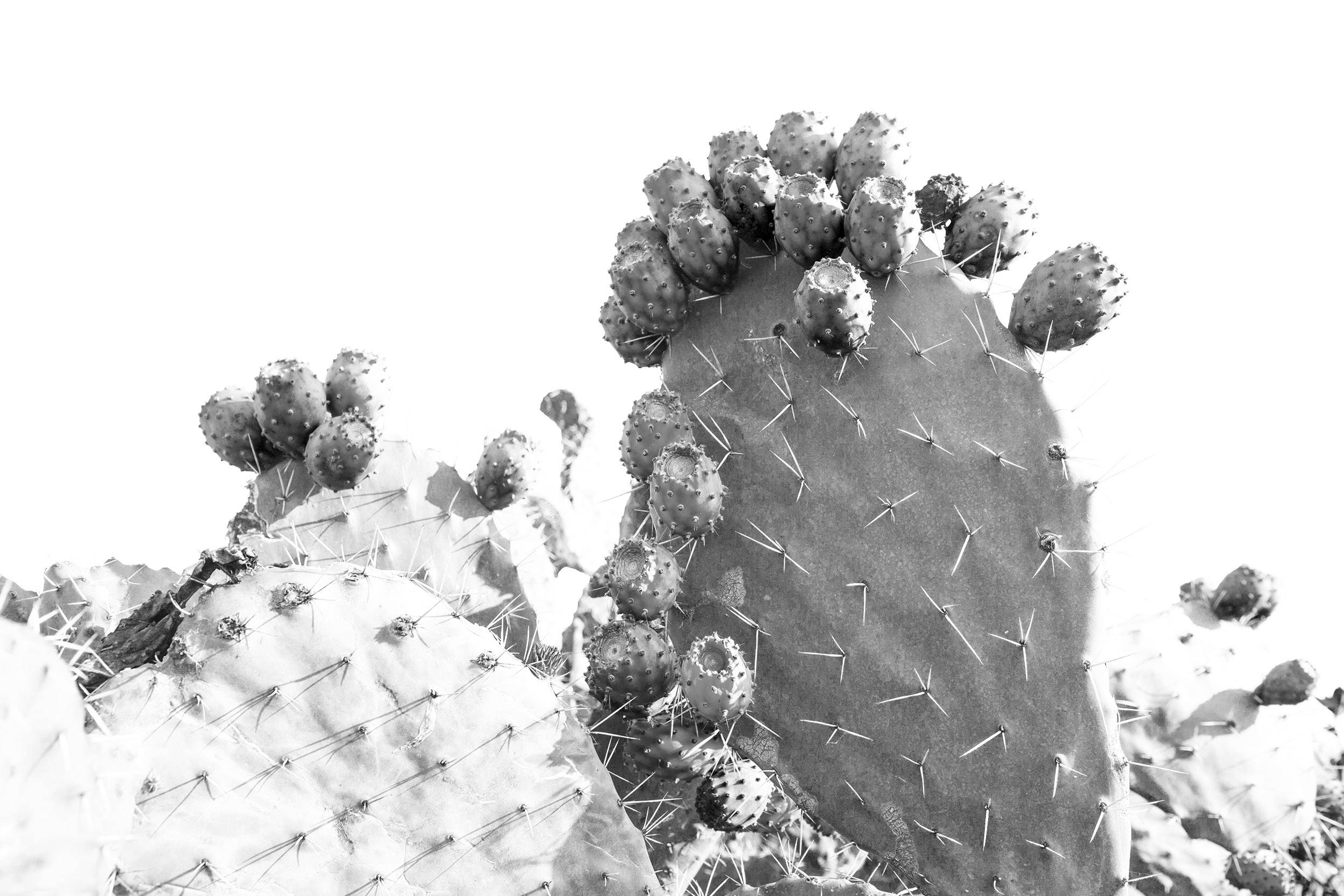 Our originating farm is a certified Eco-grower, USDA, ECOCERT, halal, Kosher. The packaging uses 50% recycled paper and is recyclable itself. We do our best to do business with eco-responsible companies.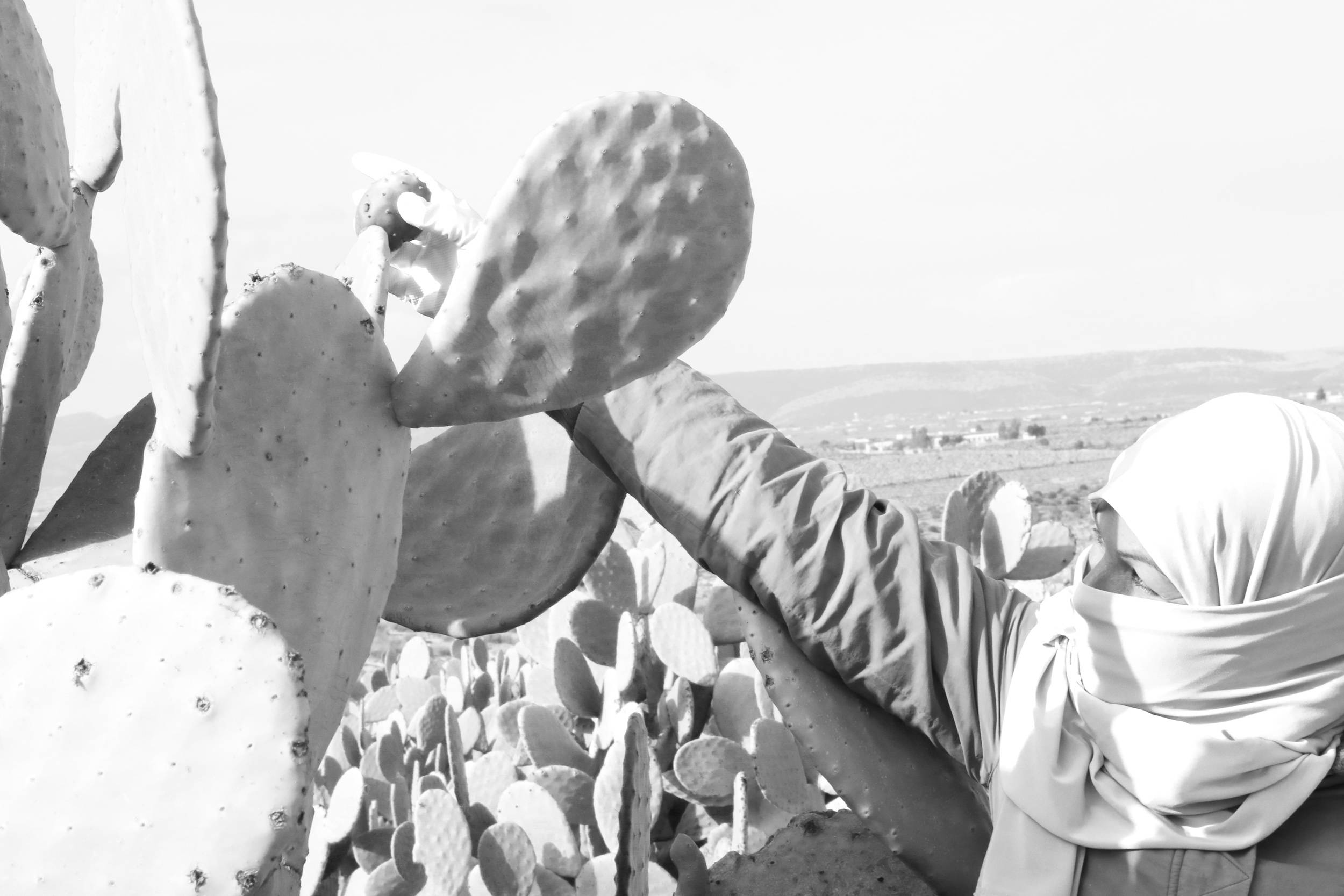 You help address unemployment & poverty issues in one of the most deprived areas in Tunisia where there is more than 40% unemployment. Currently, ten people work one full day to produce one liter of Sabrah™. With your contribution we can play a small part to elevate unemployment and poverty.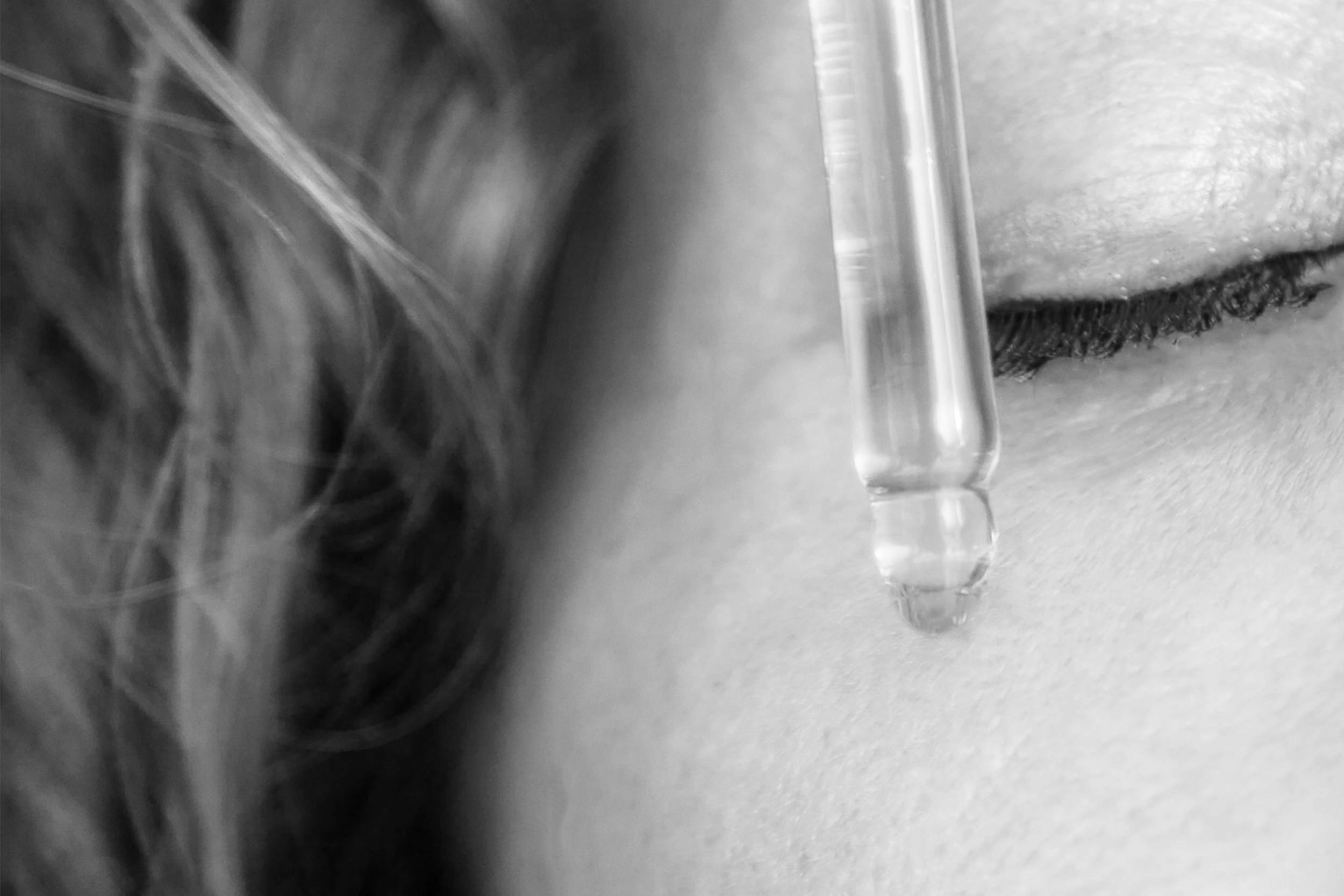 POWERFUL, PRECIOUS & PURE BEAUTY
Sabrah™ is light-weight & penetrates easily without greasy residue which benefits all skin types to retain moisture. Particularly intense to protect against signs of aging such as wrinkles, loss of elasticity & environmental impairment to keep your skin fresh, radiant & nourished. Free radical scavenger & antioxidant properties help skin turnover. Addresses concerns of redness, hypersensitivity, dark spots as well as dehydration issues of the mature or damaged skin by profoundly hydrating & softening.


Also known as Prickly Pear Seed Oil, Cactus Oil, Barbary Oil
100% Organic Facial Oil
A unique ingredient exceptionally rich in antioxidants, vitamins & nutrients • Contains 150% more Vitamin E than
Argan Oil
• Extremely high percentage of Linoleic Acid (60%) & Oleic Acid (20%) • Abundant amount of Phytosterols & Polyphenols.
As only 5% of the Prickly Pear seeds that are extracted are used to create this Precious Oil, 110 pounds of this fruit is needed in addition to a half a day of labor to produce this bottle of 50 ml. Which makes it the most costly, luxurious and powerful oil on the market.
100% Prickly Pear Seed Oil (also known as Barbary Fig seed Oil, Cactus Fig Oil). The Prickly Pear contains 150-300 seeds that are separated carefully from the fruit, cleaned, dried, stored & are cold pressed on demand.
It's hard to ignore all the amazing press and attention prickly pear seed oil has been getting. And truthfully, it's...
Prickly Pear Seed Oil for Skincare Believe it or not, cacti are making their way into our skincare routine. Yes,...