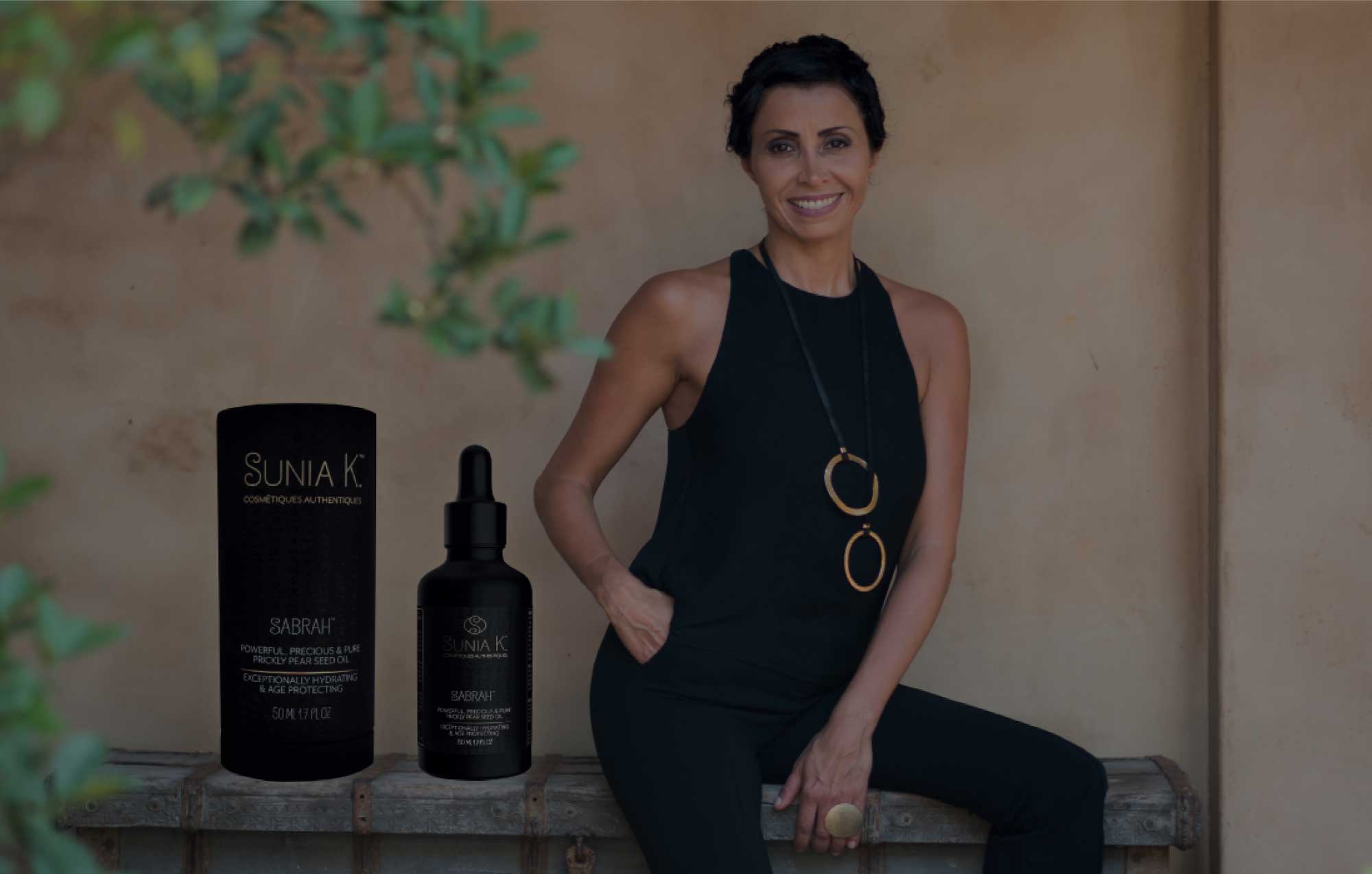 Love yourself, ease your skin with sabrah
A unique potent ingredient from Tunisia meticulously batched in New York
"Having acne prone skin, I always struggled to find a product I could use to keep my skin moisturized without producing more blemishes. Barbary fig seed oil is the perfect product for my skin type. It is the only oil I apply on my face, together with rose water and aloe vera. My skin feels balanced, nourished, and healthy. It gives the skin a lovely glow and heals any blemishes/cuts very quickly. I use Sunia K. cosmetiques authentiques with confidence, knowing her great care finding the best ingredients for her product."

"Winter 2017, first winter in New York: my skin did not really like this dry cold. The outer surface of my hand began to blush, to crease and to crack so Eczema way. After trying some creams unsuccessfully, I started a cure 'Sunia K' applying each night before sleeping two drops. The application is pleasant because the absorption of the oil is fast and leaves the skin soft and silky, a real relief for my hand! After a week the red and swollen surface was gone, what happiness!"

"One of my favorite things to do at the end of my day, is to moisturize my skin with Sabrah Oil after washing up. I apply a few drops to my face and neck, then smooth it into my skin, lips, hands and nails. The oil absorbs easily, making my dry skin feel and look supple and giving my face and nails a healthy (not greasy) sheen. Sabrah Oil has a light natural scent that reminds me of being out in the country and smells just heavenly. I also put a few drops in my hair after I wash it which helps define my curls for several days without feeling heavy or sticky. Sabrah Oil is pure luxury in one small bottle, and I'm so happy I found it."
-Mimi Plevin-Foust
"Great softness to the application, feeling" velvet," pleasant smell, more pleasant than to have cream on the skin to lie down, in short, a very nice product!"-
Isabelle Bouillard, New York, USA

"I have dehydrated and sensitive skin, so I have always been afraid to try anything different from Avene or Vichy. Sunia-K oil is great for my skin, it takes away the dry/ itchy sensation and leaves it smooth and nurtured from the first use. Can't wait to see more products in your line.!"

-Carolina Faure, New York, USA
"A non-oily substance, then so good for the night. It does not leave your skin or your hair greasy. We can add some light scent like Jasmine!"

-Delphine Ledroit Anders, New York, USA
"Sabrah oil is delightful to use, and the results are visible the next day when it is applied in the evening, the skin is perfectly hydrated, and the wrinkles are attenuated, a subtle fragrance that disappears."

-Virginie Lefebvre New York, USA
"I like the application, Sabrah Oil is very nice, not greasy, very sweet. I love the fact that it is a neutral fragrance-free.I used it for the night with tired eyes the eve. Very nice feeling to wake up. "

-Sophie Dubois, New York, USA
"I like to use it daily for the eye contour. The sweetness and hydration of oil without the fat, this oil gives a very healthy shine when one has the eyes tired. "

-Sophie Panthou, New York, USA
"Texture: I love it because not too greasy, penetrates well and you can wear makeup behind! Odor: Natural, month it suits me. Possible to add another smell. In addition to its moisturizing side it seems to treat well the major dryness problems. Also good to put in the evening and cream in the morning (good mixed)."

-Sabrina, Maubert, New York, USA
Love yourself, Treat your skin
Having psoriasis myself, I have a continued need for a powerful, non-fatty & easily absorbed oil. This oil has helped me keep my sensitive skin nourished and restored. It is Powerful, Precious & Pure just like we are!I share it with you with love, beauty, and authenticity.

Sunia K. Msc. Founder
A French born, Tunisian Expat, Canadian Citizen, New York adoptee!


Also known as Prickly Pear seed Oil, Cactus Oil, Barbary Oil
100% Organic Facial Oil
A unique ingredient exceptionally rich in antioxidants, vitamins & nutrients • Contains 150% more Vitamin E than Argan Oil • Extremely high percentage of Linoleic Acid (60%) & Oleic Acid (20%) • Abundant amount of Phytosterols & Polyphenols.

As only 5% of the Prickly Pear seeds that are extracted are used to create this Precious Oil, 110 pounds of this fruit is needed in addition to a half a day of labor to produce this bottle of 50 ml. Which makes it the most costly, luxurious and powerful oil on the market.
100% Prickly Pear Seed Oil (also known as Barbary Fig seed Oil, Cactus Fig Oil). The Prickly Pear contains 150-300 seeds that are separated carefully from the fruit, cleaned, dried, stored & are cold pressed on demand.
Light-weight & penetrates easily without greasy residue which benefits all skin types to retain moisture. Particularly intense to protect against signs of aging such as wrinkles, loss of elasticity & environmental impairment to keep your skin fresh, radiant & nourished. Free radical scavenger & antioxidant properties help skin rebirth. Addresses concerns of redness, hypersensitivity, dark spots as well as dehydration issues of the mature or damaged skin by profoundly hydrating & softening.
Our originating farm is a certified Eco-grower. The packaging uses 50% recycled paper and is recyclable itself. We do our best to do business with eco-responsible companies.
You help address unemployment & poverty issues in one of the most deprived areas in Tunisia where there is more than 40% unemployment. Currently, ten people work one full day to produce one liter of Sabrah's Oil. With your use of this product and our contribution of 5% of our profit, we can play a small part to elevate unemployment and poverty.By purchasing this product, you empower Women Entrepreneurship.

For skincare and beauty lovers, we've been taught to shy away from oils, because no one wants oily skin. But...
If you've ever struggled with eczema you know the discomfort it brings. Also known as dermatitis, the exact cause of...